Breadalbane House News
This is where we announce special offers, changes in pricing and how we work, and how we try to continue to improve!

The order is chronological, the most recent on top.
31-03-2018: PayPal Payments
Both for deposits and for payment on departure, we now have the possibility of taking payments via PayPal. Even though the actual costs of PayPal transactions are added to the amount due at 3.5%, that still makes it considerably cheaper than many deposit payments via banks. Do keep in mind that if you do not pay in GBP, PayPal or your bank will charge you for the conversion!
17-12-2017: Rates for 2018
After four years, our rates are once more updated. Guests sharing a room will now pay £ 37.50 rather than £ 35, and for singles there is a change from £ 45 to £ 55.
03-11-2017: Card payments
During the last few years, we passed on the actual cost of taking card payments (3.5%) at check-out. As do a lot of small (and big) businesses. Now, the card companies' lobby has convinced the EU that that should not be allowed. The result is that we no longer take card payments. We do still use card details to secure bookings, though.
26-12-2013: Rates for 2014
For the first time since 1-1-2011, some of our rates need to be increased. Inflation has continued all these years, so it was only a matter of time! Guests sharing a room will now pay £ 35 rather than £ 32,50. The rate remains unchanged for singles.
15-12-2013: Electricity
An old house - ours is from 1904 - is charming and fun, but it has certain disadvantages. After a few unexplained power outages it was time to call in professionals. They have done weeks of work on rewiring almost the entire electricity supply. Everything is now up to date. A safe feeling!
01-01-2012: Small Print
We have tried to write out our policies in a separate page (called 'terms'). This is included to try to prevent any misunderstanding. Legal jargon has been avoided as much as possible, and we hope it reads like actual English!
01-01-2012: Children Policy
After a lot of bad experiences last year, we have had to decide on a minimum age of 8, regretfully. This does not please us at all; many of the children staying were a joy to have around. There were too many cases, though, of parents letting their children run wild (and that was really wild) without supervision. This caused breakages that we were expected to pay for, bother for other guests, and an unbelievable amount of cleaning, while the people involved even got angry for us not giving discounts for children. The fun no longer outweighed the toil and loss. We took the decision with a lot of regrets, and we realise that it will put out many people. But the decision is made, and we will have to let it stand.
26-12-2011: Prices for 2012
Our rates for 2012 will remain the same.
01-12-2011: Solar Panels
Just in time to benefit from very favourable government rules, we have gone a lot greener than we were. At the back of the house, solar panels have been installed. This will give us a lot of the greenest electricity imaginable when we need it most: in the summer season. And it should help us in keeping our costs down, which ultimately benefits you, dear customer!
16-08-2011: Sign
The sign hanging over the front door had become old and tatty. We were extremely lucky to have the address of
Ratho Forges
, who have designed and built us a beautiful new one, with a very handy mechanism to change the 'vacancy' and 'no vacancy' signs around. We hope it will remain as attractive for many years to come!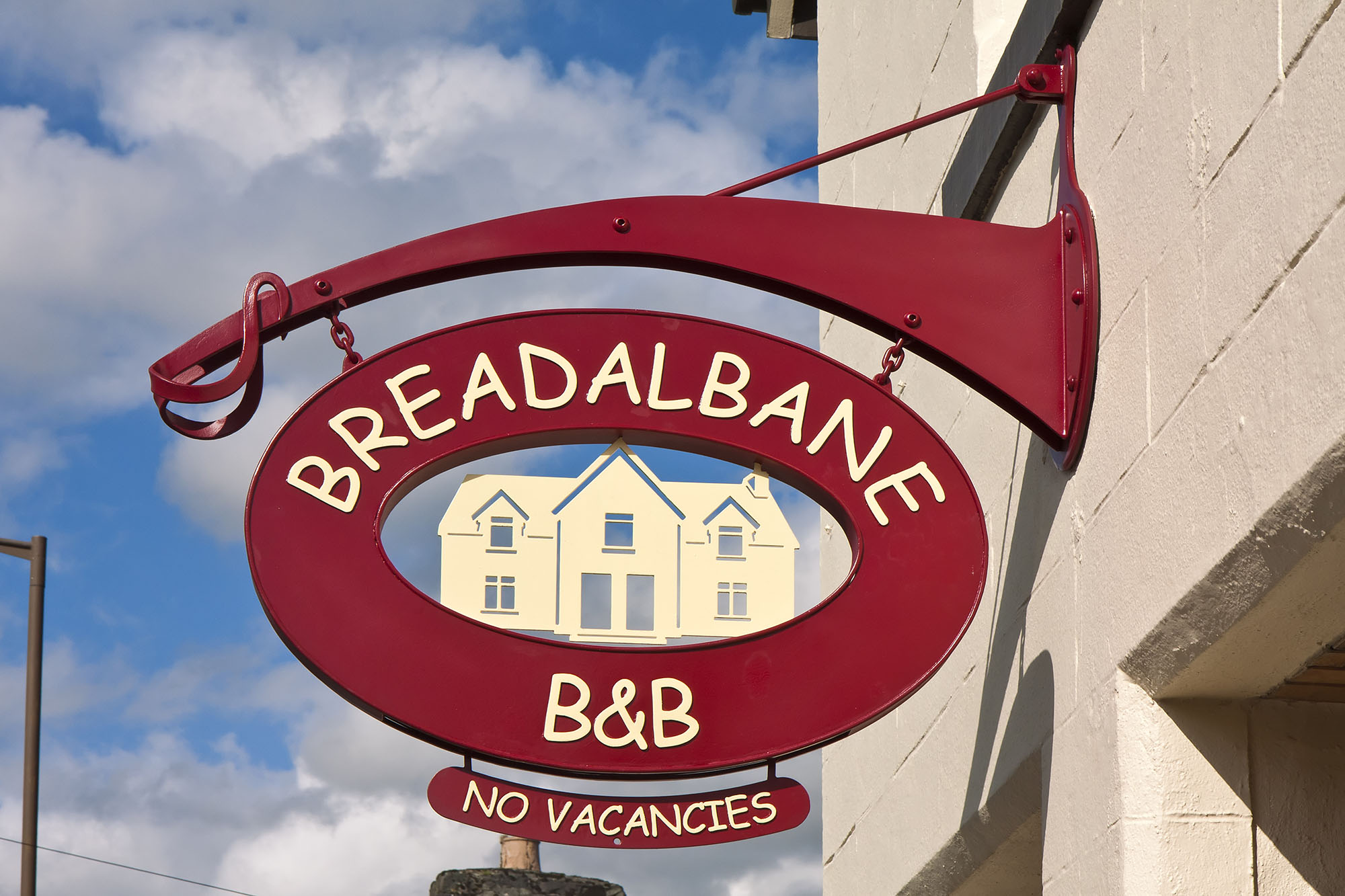 01-03-2011: Bathroom Upgrades
All of the guest bathrooms have had major upgrades this year. Some were almost completely redone, others less extensively, but they all look a lot fresher, and with the wet-walling replacing tiles and grout, they are set to remain so for a long time to come.
15-12-2010: Prices for 2011
After rates have been constant for a number of years, for the 2011 season we cannot escape raising them a bit. We hope it will not deter you from staying with us!
15-03-2010: Bathroom Floors Upgraded
We were never very happy with the carpets in most of the en-suites, and now that all rooms have been upgraded to new vinyl flooring they all look and feel a lot better!
24-02-2010: Exterior Painting
The house was in need of a new coat of paint, and now this has been done it looks almost new! It is still, of course, well over a hundred years old.
16-02-2010: Double Glazing Installed
All the old single-glazed windows were replaced by new ones offering the best insulation on offer. This will mean more comfort for our guests!
15-02-2010: New Furniture
Two of our guest-rooms have been fitted with new furniture. Over the coming years, the others will follow suit.
20-12-2009: Flat Screen TVs
The aging and bulky TVs in the guest rooms are replaced by flat screen ones. They have a DVD player built-in, so if you bring a (region 2) DVD with you, you can now watch it in the room.
09-09-2009: Going Digital
The analogue television signal (which was pretty bad anyway) is due to be shut down sometime in 2010. Instead of four snowy channels, we now have six crisp and clear digital ones (BBC1, BBC2, STV, Channel 4, Channel 5 and BBC News).
14-04-2009: Opening Day
After almost a month of preparation, Breadalbane House reopened.
16-02-2009: New ownership
This was the day that our new life as B&B owners started.